What's the "Get it later" option for a hold?
When a hold is available, you'll get a notification with two options: Borrow and Get it later.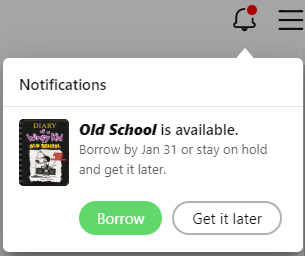 If you're not ready to borrow the book (for example, if you don't have time to read it), you can select Get it later. This freezes your hold for 7 days and keeps you at the top of the wait list.
Then, after 7 days, your hold will be active. You'll be notified when the next copy is available so you can borrow it.
If you want to freeze your hold for more than 7 days, you can edit how long it's frozen.